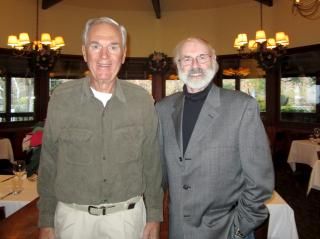 Last Sunday while in the San Francisco bay area for a family Thanksgiving celebration my wife Susan and I got together with Roger Huitric and his wife Karen for lunch. Another friend and fellow Loyola University alumnus and his wife, John and Connie Dalton, also joined us. Lunch was at Wente Winery restaurant in Livermore.
Roger, John and myself were in the same Loyola class and had been dormitory roommates at one time or another. The first attached photo is of Roger (with the beard) and me and the second photo is of Connie, John, Roger, Karen, Susan and Peter.
Roger and Karen are enjoying retirement in San Jose and Susan and I are enjoying retirement in Princeville on Kauai.
Aloha and best wishes for a merry Christmas and happy and healthy New Year! Peter